Photoshop-Plugin for CC 2015 und newer versions | Windows and Mac
Speed up your custom Photoshop workflow!
Create your own Photoshop panels: tools, menu items, actions, brush presets, tools and scripts with drag & drop.
User friendly
Over 700 menu items, tools, actions, brush, and tool presets and custom scripts via drag & drop.
Customizable
Arrange, rename and highlight buttons and containers. Dockable everywhere.
Time-saving
Save a lot of time – No matter what purpose Photoshop is used for.
New in Version 1.1
Brush Presets, Tool Presets, Exporting/Importing Workspaces and more!
Configurator Reloaded Trial
Free Trial Version. (Almost) fully functional.
Don't saves changes after a restart.
Configurator Reloaded v 1.4
Create your own Photoshop Panels.
Fast – Easy – Clear.
One-time payment. Incl. the country-specific tax.
"Simple, flexible and practical. The workspaces and containers allow me to combine all Photoshop functions, tools, actions and scripts for specific tasks in a tiny panel. Especially when working with my Wacom tablets, every function is just a click away and I don't need to reach for the keyboard. Recommendable!"
Olaf Giermann
Photoshop expert and editor at "DOCMA – Magazine for image editing"
Which version of Photoshop is required?
Configurator Reloaded runs under Photoshop CC 2015, CC 2015.5, CC 2017 and CC 2018.
Older versions (CC 2014, CC, CS6 and older) are not supported.
Windows and Mac.
Which payment options are available?
Credit Card
Bank Wire Transfer
PayPal
Sofort
How do I receive the panel?
Once the purchase is complete, you will receive an email with a link to download Configurator Reloaded.
On how many computers am I allowed to use the panel?
You can install the panel on all computers, where the panel will be used by you. If a third person also wants to use the panel, a second license is required.
How do I install Configurator Reloaded?
Installation is quick and easy with a separate installation file. Detailed instructions can be found in a PDF file in the downloaded zip archive.
Which buttons can be added to the panel?
All tools (Move Tool, Eyedropper Tool, Brush Tool, etc.)
Commands behind the menu bar (File > New, Filter > Sharpen > Unsharp Mask, Select > Color Range, etc.)
Brush Presets (Thumbnails)
Tool Presets
Actions
Custom scripts
Other helpful commands (Layer Blending Modes, Nik Collection, Topaz Labs, Merge Visible Layer to new Layer, etc.)
How to add new buttons?
Click on the arrow icon at the bottom of the panel
Choose the desired category
Drag and drop the desired command into a container *
* Tools can only be added to Tools Containers * Brushes can only be added to Brushes Containers

How can containers/buttons be colored?
Right-click on the desired button or on the container name.

How can I change the order of buttons/containers?
With Drag & Drop.
How can new containers be added?
From the panel menu.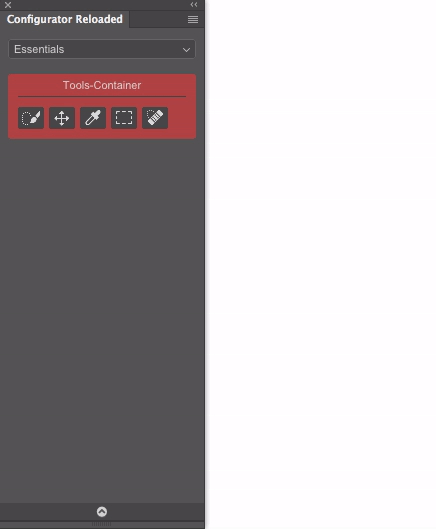 How can containers be collapsed/extended?
Click on the container name.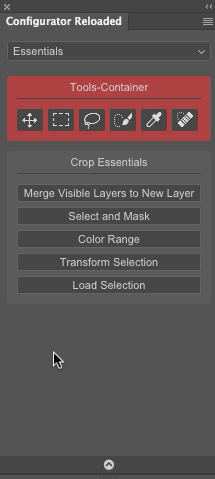 How can the text size and width of the buttons be adjusted?
In the panel menu under "Appearance".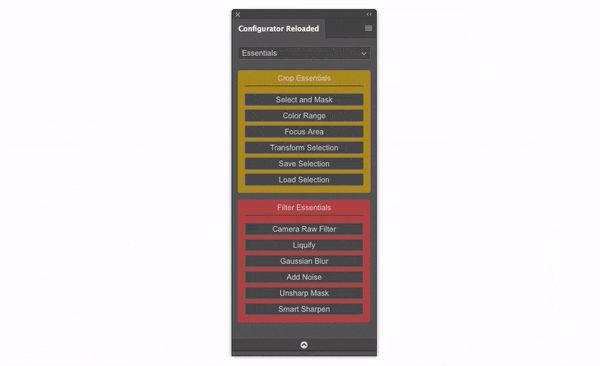 How can I rename buttons/containers?
With a right click on the container name or on the button.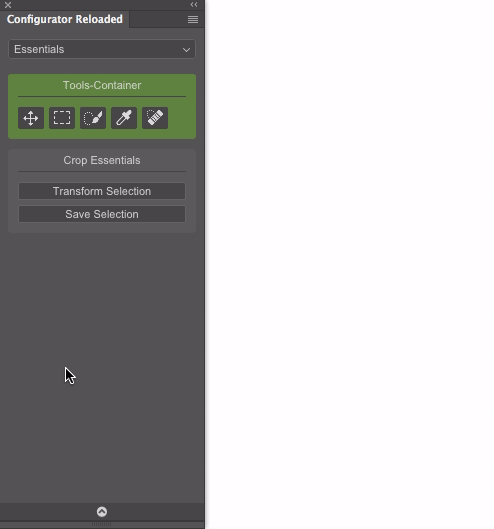 What are workspaces and how can they be edited (create, rename, delete)?
Workspaces are displayed at the top of the panel in the drop-down list. When the panel is first started, this is the "Essentials" workspace. If a new workspace is created, it is empty and new buttons and containers can be added. Use the drop-down list to switch between workspaces. Workspaces can be created, renamed, or deleted from the control panel menu.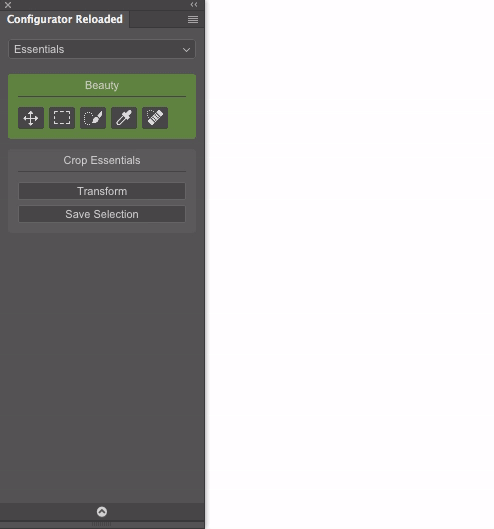 How to add your own scripts?
From the panel menu.
The script file must be an ExtendScript file (extension .jsx).
The button is added in the first container of the currently selected workspace.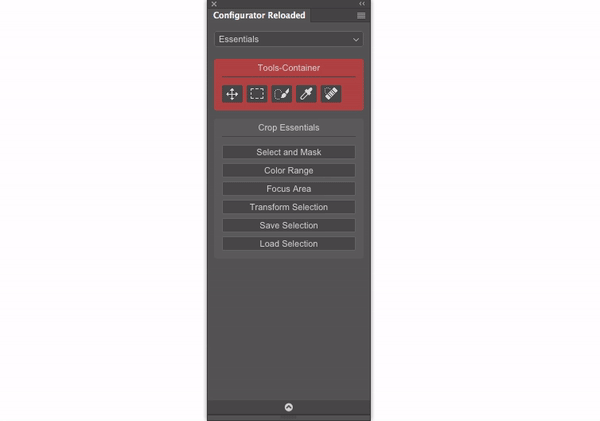 Can I export standalone panels?
The export of standalone panels is not possible.
However, it is possible to export workspaces. For the import it is necessary to have Configurator Reloaded.